Welcome to the Official Site for Lia O'Halloran. You may recognize Lia from her role of Young Celia on All My Children or from her work for big name companies including Parents Magazine, Saks Fifth Avenue and Toys R Us. Here you will find all the news and up to date information about this talented young actress. For Industry Professionals looking to learn more about Lia, please click on her name above for an overview of information.


NEWS & UPDATES
14 Jan 2016
Star-Kidz Q&A
Last month Lia did a Q&A with the website
Star-Kidz
as a part of their Holiday Q&A event! She answered ten questions and talked about the different projects she has done recently, here is what she had to say: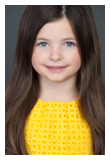 Lia O'Halloran played young Celia on All My Children. This year she has been seen Nautica, Gymboree, and more! To keep up to date make suire to visit her
website
and like her manager's page on
Facebook
.
1. What was the experience like working on All My Children?
The staff was so nice . I loved seeing all the different sets. I got to put fake blood on which was fun.
2. How did you like working with Jordan Lane Price?
Jordan was so sweet and friendly.
3. What was your time on set like shooting for Gymboree?
I LOVED shooting for Gymboree ! I had a lot of fun with the other kids on set. There was a huge dog that we got to shoot with. I love animals so that made my day.
4. How do you feel seeing your photos up in stores?
I get very excited seeing my picture up but I think my mom gets more excited.
5. What is the best part of shooting for Nautica?
The staff at Nautica are so nice. We got to shoot at a beach so we had fun on set and found tiny crabs! I got to ride a bike at one of the Nautica shoots.
6. What was it like doing a photoshoot for the Daily News?
The Daily News photo shoot was fun because we got to pretend to do all different Christmas cards. My favorite was the pjs!
7. How did you enjoy your shoot for Anime?
I loved the Merry- go -round and the fancy hotel on the Anime shoot. I got to wear a lot of fun clothes.
8. What was it like on set doing a holiday shoot for Lands' End?
Lands End was nice and quick . My mom was so excited to get the Lands End catalog in the mail!
9. How did you react to seeing your The American Frozen Foods Institute commercial on TV?
A lot of my family and friends saw the American Frozen Foods commercial. It was fun to see myself on TV!
10. What has been your favorite project to work on this year?
Gymboree was my favorite thing I did this year. I really liked the snow in June!!! What could be better then snow in June , shooting with baby kittens and then a huge dog! Best shoot ever!!
Is there anything else you would like to add?
I just wanted to thank Star- Kidz for this interview and all their support as well as Colette from CP Talent for everything she's done.
(Image by Martelli Photography)
Posted by: Lisa
25 Dec 2015
Merry Christmas!
It's here, it's here, Christmas day is here! Lia and her siblings are full of energy waking up to see what
Santa
has brought for them, and cannot wait to open presents and spend the day with family enjoying the traditions that they have to celebrate the day. It really is a magical time of year and she would like to wish all of you celebrating today a
Merry Christmas
, and may everyone have a fantastic holiday season.
Posted by: Lisa
21 Dec 2015
Gymboree
Lia had a fantastic time shooting for
Gymboree
earlier this year and over the last several weeks her images have been surfacing! She has been spotted on their website, social media accounts, and she also had multiple posters up in their stores. She loved all of the different outfits she got to wear from fun everyday outfits to holiday dresses, and she also got to model a part of the
Olivia
collection too! If you passed by your local store a little while ago at the mall you hopefully saw Lia in the window! A giant
poster
of her posing with her new furry friend was hanging up, and she also had another set of shots up within the stores as well. It was such a great time on set working with many of her friends, all of the "snow", and make sure to view the images in the gallery.



Posted by: Lisa
14 Nov 2015
Lord & Taylor
Earlier this year Lia was seen all over the
Lord & Taylor
website along with their social media accounts for Mother's Day. As the summer months continued through
two
additional shots from her shoot surfaced, and she was featured throughout their
catalog
as well! As the oldest sibling in her pretend family she was seen pulling at her Mom, having fun with her brother, and with an outfit change came a very nice shot of Lia and the model who was her Mom for the day. Hopefully some of you got to see her in the catalog if it was delivered to your home, and thankfully Lia has some great friends whose parents spotted her and sent over some images of her pages. What a fun shoot, Lia had such a great time on set!


Posted by: Lisa
02 Nov 2015
Nautica
Lia always enjoys shooting for
Nautica
and the kids
fall collection
has been released! Her images have been popping up on their website and in their stores featuring both of the shoots she did for this line. Not only did she get to do a very fun on location shoot for the company, but this time around she was also in studio working on their online
lookbook
as well. The images all came out fabulously, Lia loved modeling the different outfits and was so happy to hear that her image was being seen in stores across the country too!


Behind the scenes, it was another fantastic day down at the beach, and cameras were rolling capturing every minute of the shoot. Lia always loves working with new friends, and you can see just how much fun they were having together as
Nautica
released a video for their fall collection as well! You can view it in the
media section
and
thank-you
to everyone involved both days for such a great shoot!



Posted by: Lisa
27 Jul 2015
Happy Birthday!
It's a big day in the O'Halloran household today and one that will be full of fun and celebration! It's not every day you turn
eight years old
and Lia is ready to enjoy all of the excitement her birthday will bring.
Happy Birthday Lia
! I hope you have a
fabulous
day today as everyone comes together to help you celebrate your
special day
. Enjoy all of the traditions, activities, and everything that makes your birthday one of the best days of the year and I hope the wish you make when blowing out the candles on your cake comes true!
Happy Birthday
!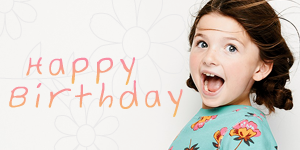 Lia's brother Aiden is also turning
eight years old
today and that means double the celebration! Aiden, I hope you have an
awesome
day as everyone comes together to celebrate your birthday today. Enjoy cake, presents, traditions and everything that makes your birthday special, and I hope it is one of the best birthdays ever!
Happy Birthday Aiden
!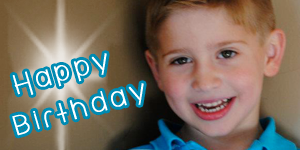 Posted by: Lisa